Two Asheville Restaurateurs Pass the Torch, Announce Big Changes for 143 Charlotte Street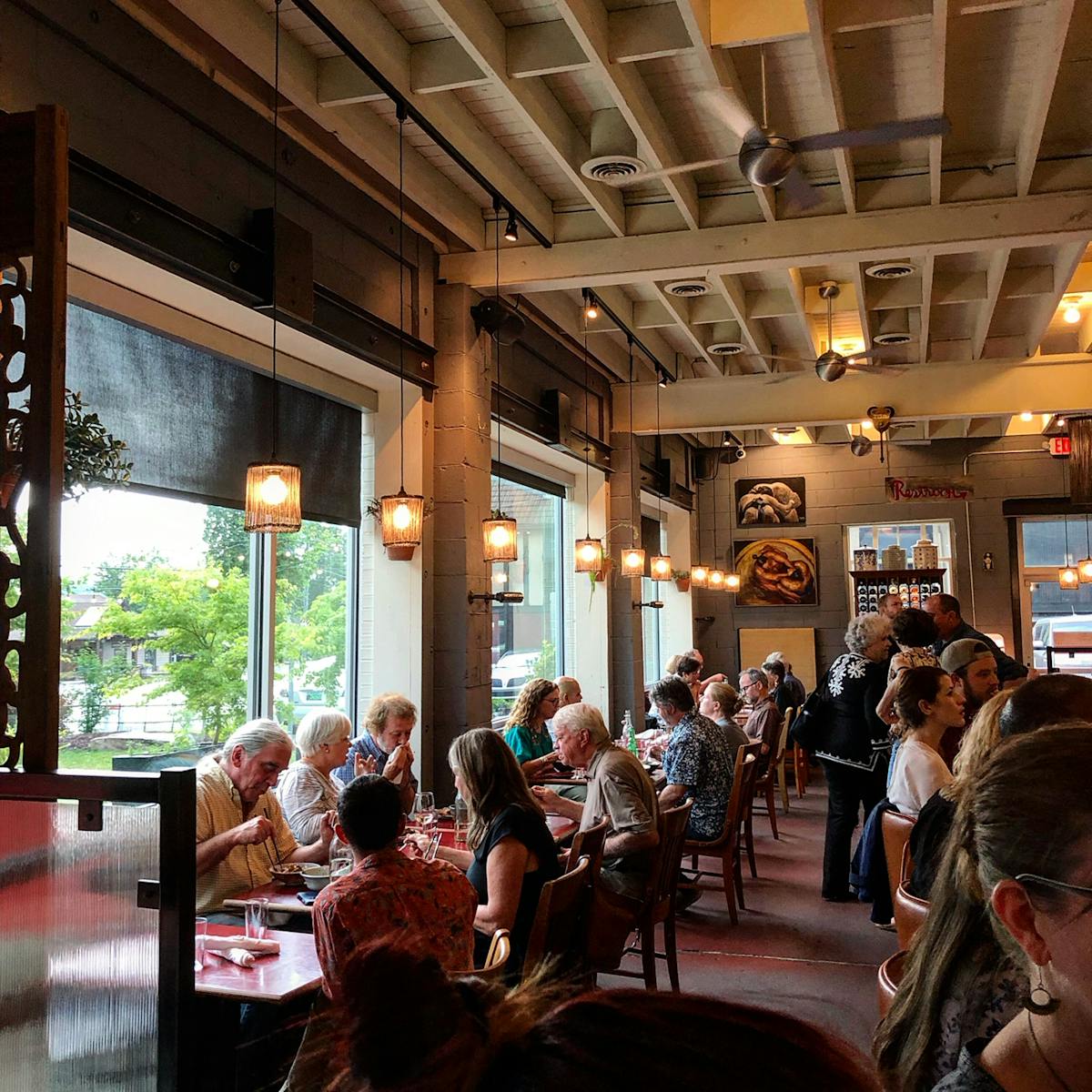 Gan Shan Station chef / owner Patrick O'Cain will close Station at the end of January after a successful five-year run and announces the widely recognized neighborhood spot will be passed to O'Cain's mentor and friend, restaurateur Eric Scheffer, for its next chapter as Jettie Rae's Oyster House.
Two owners, two acclaimed restaurants, one beloved neighborhood space. Asheville will see familiar faces pass the torch at 143 Charlotte Street beginning February 1, when Gan Shan Station will conclude business after a successful five-year operation and Jettie Rae's Oyster House—a fresh seafood concept—will begin making preparations to launch in spring.
Patrick O'Cain and Eric Scheffer, two longtime Asheville residents and driving forces in the culinary scene, describe this transition as meant to be. "The timing couldn't be more perfect, for all of us," says Scheffer.
The two men have a long, established history as friends and mentors: Scheffer first met O'Cain through a mutual friend many years ago in Charleston when O'Cain was working at McCrady's Restaurant. "We were seated by the window, having dinner, and Patrick came out and we met for the first time," says Scheffer. "When Patrick moved back to Asheville to open his new venture we began building our friendship and mentor relationship." Meanwhile, O'Cain was starting to develop the menu and vision for what would become his first restaurant concept: Gan Shan Station. O'Cain started visiting with Scheffer, focusing their conversations around the new Asian restaurant: the challenges, opportunities, and details of running a successful operation.
"Eric guided me through the process of opening a restaurant. He taught me the importance of asking the right questions at the right time and connected me with the many others in the Asheville restaurant community," says O'Cain. "From there we developed a friendship and when I needed to, I would reach out to him so we could get together and talk through it."
"It's always been a great relationship," adds Scheffer. "We've become like family."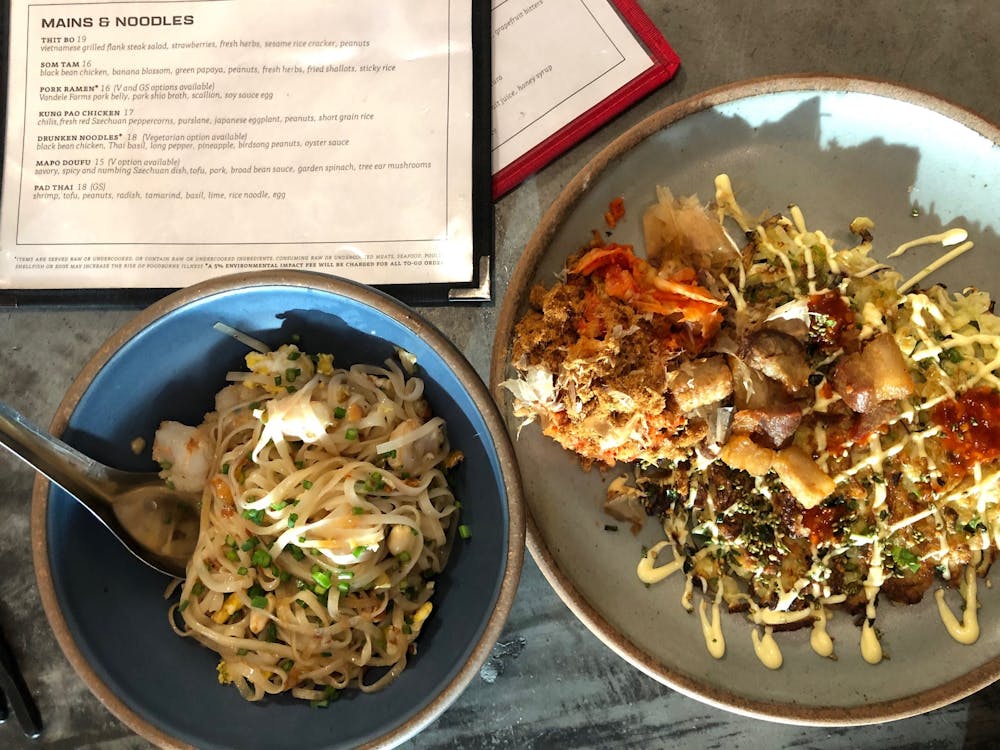 Patrick O'Cain opened Gan Shan Station in late 2014 at 143 Charlotte Street, in the renovated Gulf gas station. Over the years, the restaurant received local and national acclaim, earning nods from Conde Nast Traveler, Bon Appetit, Wall Street Journal, Zagat, Architectural Digest, and USA Today. O'Cain then opened a second, streamlined location, Gan Shan West, in fall 2017. As the second location was establishing itself, O'Cain hired on friend and former colleague, Will Cisa, as Chef de Cuisine at Station. Will has been leading the team on Charlotte Street with adventurous payoffs, such as redesigning the dinner menu and spearheading the popular 4-week Vegan Vietnamese popup last November.
Gan Shan West, Station's noodle-centric sister restaurant located in the Beacham's Curve neighborhood of West Asheville, will remain open and operating with Chef de Cuisine Ray Hui at the helm. O'Cain will retain ownership, overseeing operations.
"It has been a wild ride and after five years, I'm ready to simplify, breathe, and pursue different passions in life," says O'Cain. "I'm so grateful to the staff and community without whom none of this would have been possible."
Meanwhile, Scheffer is also celebrating a milestone: ten years as owner of Vinnie's Neighborhood Italian. An established leader of Asheville's culinary scene, Scheffer took the helm of the Savoy in 2000, and as a founding member, helped usher in The Asheville Independent Restaurant Association (AIR). Savoy experienced a decade of success, lauded by Food & Wine Magazine and Southern Living as one of the Southeast's best fine dining restaurants and its wine list being hailed by Wine Spectator as one of the country's best. In 2010, Scheffer closed the Savoy and transformed it into Vinnie's Neighborhood Italian Restaurant, featuring "Old School" New York red sauce Italian food. Vinnie's has been voted best Italian restaurant 9 years in a row, including Best Service and Best Bartender to name a few.
"I've been perfecting what I have for ten years," says Scheffer. "It's time to bring a new concept to North Asheville that is accessible and family friendly with a casual coastal feel. I simply want to feed everyone really great honest food done really well and build a community, a place where people experience the same level of attention to their experience as we do at Vinnie's, where every night is a party!"
Scheffer and his business partner, another longtime Asheville resident Jim Diaz, are excited to introduce Jettie Rae's Oyster House to Asheville. "The space, neighborhood, outdoor lawn and patio on Charlotte Street, are perfect for the concept," Diaz remarks. Jettie Rae's will offer seafood classics such as fresh oysters, fish sandwiches, po boys, lobster rolls, as well as burgers and fried chicken. Guests can expect Oyster Roasts, Crawfish Boils, Clam Bakes and other fun events throughout the year on the lawn and patio.
What's notable here, too, is not only the passing of the torch, but the fact that Gan Shan Station's Chef de Cuisine Will Cisa will stay on board as Jettie Rae's Executive Chef and lead the new seafood oyster house.
"In Yiddish, we call it bashert, or destined to be," says Scheffer. "Will is a perfect fit."
Cisa, who was born and raised in Charleston and grew up on the water, has an affinity and passion for coastal seafood. The opportunity to bring his passion to Asheville and to team up with Scheffer is a natural progression of his culinary career. Cisa's past experience includes working for Mike Lata at FIG during its first four years, where he rose to the position of sous chef. He also lent his culinary talents at Xiao Bao Biscuit, where he met O'Cain.
Cisa's philosophy of seafood can be summarized as: simple, clean, true to itself, and true to technique. "We don't want to complicate things. We want to do honest food really well," he says.
Scheffer adds he and Cisa have magically hit it off. "It's already a great working relationship that was meant to be. We think alike, and with both of our younger lives revolving around the seafood communities we came from, our ideas of execution, combining both North East and Southern Seafood, flow freely and innately."
Gan Shan Station will operate normal business hours now until January 31. The space will then close for renovations and staff training. Jettie Rae's Oyster House is slated to open sometime in April.
For updates, visit www.jettieraes.com.