Dining Review: Gan Shan Station Launches a Menu Refresh at Flagship Charlotte Street Spot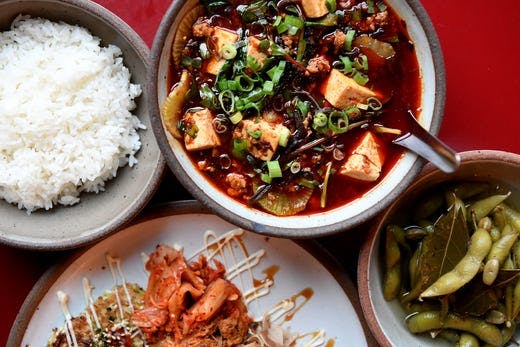 If you've visited Gan Shan Station on Charlotte Street, you may have found yourself wowed by the house-made dumplings and creative takes on classic Asian cuisine.
Gan Shan recently rolled out a new menu, spearheading by chef de cuisine Will Cisa and overseen by chef/owner Patrick O'Cain. If you were concerned the restaurant might have simplified your favorites, it wouldn't be an illogical worry. A streamlined menu might broaden its audience while allowing it to burn through those weekend lines quicker.
Thankfully, Gan Shan has not gone full ramen or, worse, moved to take-out dishes of fried rice or beef and broccoli. The menu starts with over a dozen small plates and a handful of snacks and sides. You can easily make a meal out of these menu categories or just the house-made dumplings from the old menu, available in an order of five or in a 20-piece boat.
We began with an order of black vinegar deviled eggs, one of the new menu's snack options. At first glance, it looked like any other order of deviled eggs, with a piped center of creamy yolk mixture, all served on a custom East Fork Pottery serving dish.